Do you have an idea? - Startup Weekend - Tourism & Hospitality
What is it? Startup Weekends are like an MBA in 54 hours. It's a brand new way of building /developing business, testing new ideas or launching new products, that you can take straight back to your various projects immediately.
Here's a quick video (2 mins) of the event, to provide an idea of how it works. https://www.youtube.com/watch?v=suWrIn2H8rs Here's some feedback from a participant who's idea didn't get selected, but left the weekend with a whole new business and key contacts. https://www.youtube.com/watch?v=9UOGOoKWK0w
We have a number of mentors, tech people, business owners, marketing people and service providers coming along. Our theory is that ideas's are worth nothing. The power is in the execution, which is rapid and effective in the Startup World!
Call us any time you have a question (07) 4015 2517
Registration at http://www.up.co/communities/australia/cairns/startup-weekend/5707 
Any questions, please let us know.
Get in the game The Team @ theSPACE theSPACE - Turning Ideas Into Reality
Power Hour: Wellness for you and your business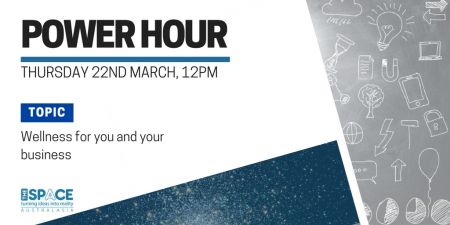 Thu, March 22nd, 2018 - 12:00pm
~
Thu, March 22nd, 2018 - 13:00pm
JOIN OUR NEW MONTHLY POWER HOUR, WHERE WE GET LOCAL MEMBERS TO PRESENT ON A RELEVANT TOPIC.
Details
Power Hour: Marketing
Wed, April 18th, 2018 - 12:00pm
~
Wed, April 18th, 2018 - 13:00pm
Details
Myriad 2018 (Brisbane)

Wed, May 16th, 2018 - 08:00am
~
Fri, May 18th, 2018 - 18:00pm
Featuring founders, investors, thought leaders and senior executives from some of the most influential brands on the planet, Myriad 2018 is where Australia meets the future.
Details