Startup Weeknd Cairns a Huge Success
50+ Entrepreneurs, 24 Ideas Pitched, 7 Team Formed - 54 Hours of Awesomeness
The first Startup Weekend Cairns event wrapped up on Sunday night after a marathon 54 hours of pitching, team development, coding, designing, pivoting and talking to clients. 50+ budding entrepreneurs (the youngest being 13 and the oldest being 65) and supporters gathered on Friday night to launch the weekend long frenzy of building startup businesses. The weekend in a snapshot * 24 ideas pitched * 50+ people Friday night * 7 teams formed * 6 teams made it to Sunday night where they pitched their idea to the judges.
Ben Walker one of the participants suggested, "We created something from the ground up from a concept that Christine already had, we created a business model from what we learned and we had some fantastic mentors. It was a great experience"
Darryl Posgate who started out as a mentor joined a startup team suggested "the event blew my expectations". The event was considered a massive success by all that attended. Aaron Birkby of Silicon Lakes on the Gold Coast who facilitated the event said the following "Having facilitated five Startup Weekend events in Queensland, and attending numerous others elsewhere, I can definitely say that the calibre of ideas and startup entrepreneurs here in Cairns is right up there with the best of them.  The energy and commitment of the participants over the weekend confirms that a vibrant startup ecosystem is forming here."
The Winners
Winner – PackYack
– An app that allows cyclists to talk with each other seamlessly ensuring effective communication and ultimate safety for cyclists
Judge Luckbir Singh awards first place to Pak Yak
2nd – Biz Connect
– Technology that allows conference participants to seamlessly exchange contact details
Deb Hancock awards second place to Biz Connect
3rd – UberTech
– A marketplace for people with tech problems to find someone to solve their issues.
Bronwyn Voyce awards third place to Uber for Tech
Honourable Mention – TASLE…
This team from JCU developed a game application for children during the course of the weekend
Spirit of the Weekend Winner - Ben Walker 
A huge shout out to the sponsors, volunteers, mentors and judges who made the weekend possible. Much love!






What Online Branding means for your small business

Tue, July 24th, 2018 - 18:00pm
~
Tue, July 24th, 2018 - 20:00pm
Personal Branding is crucial for success because it lays the foundation of everything you do especially online, learn the strategies to take with your personal branding and online business branding that ultimately is the most important part of the brandin
Details
Startup Hackathon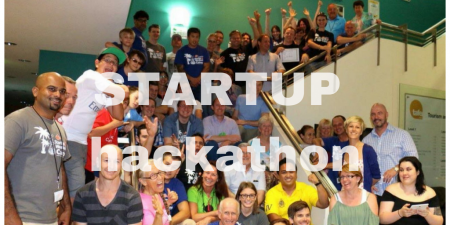 Fri, July 27th, 2018 - 08:00am
~
Fri, July 27th, 2018 - 18:00pm
Startup Hackathon, is a one day event focusing on entrepreneurial skills development
Details
Canva for Business 101

Tue, August 14th, 2018 - 18:00pm
~
Tue, August 14th, 2018 - 20:00pm
This workshop is designed for those needing and answer for their content creation and need a basic platform as a design template tool.
Details