Hey Game Changers,
We have so many exciting changes happening in the startup and innovation space this year, we are thrilled to be sharing 2016 with you. You can expect more events, more quality speakers, more networking opportunities with likeminded people, more programs, a much bigger and better hangout… all of which means more success for all those involved.
Over 2015 we are very proud to have delivered/supported:
2 x pre-accelerator programs = 45 startups
24 x startup & innovation labs
2 x silicon beach events
2 x community pitch nights
2 x startup weekends
2 x visiting entrepreneur events
2 x Emerging Entrepreneur programs
8 x regional workshops throughout the region
100's of local entrepreneurs supported to progress their ideas
You can expect that and more by being a part of theSPACE in 2016.
This year we've added 2 exciting additions to our 2016 membership.
Early bird pricing for all events throughout the year. Meaning you will pay no more than the early bird price no matter what time you book.
4 x free member only social events throughout the year, including guest speakers, drinks, nibbles and more.
Keep an eye out for the first event before March
This is in addition to fantastic benefits that come with being a member to theSPACE
Your name and business listed online as a Member Free access to monthly events – Startup & Innovation Lab & Pitch Night
Free initial consultation with a IP & Legal Specialist
Free initial consultation with an accounting specialist
Free initial consultation with a book keeping specialist
Free initial consultation with a branding specialist
Supporter bumper sticker
To join the community simply go here - http://thespacecairns.com/membership/about_membership
Troy & Damo theSPACE Cairns
Pitch Night @ theSPACE Cairns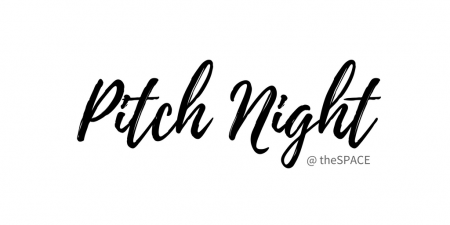 Fri, July 7th, 2017 - 17:00pm
~
Fri, July 7th, 2017 - 19:30pm
Don't go it alone. Bring your ideas to life in this interactive business building session.
Details
Money Matters HACK-A-DAY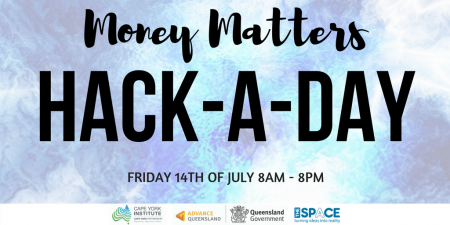 Fri, July 14th, 2017 - 08:00am
~
Fri, July 14th, 2017 - 20:00pm
Join us for one whole day where we merge two worlds – poverty and finance. This is your chance to work with others, share your wealth of experience and build a prototype product/service that will change people's lives. Be a part of the first ever "Money M
Details
Startup Muster Roadshow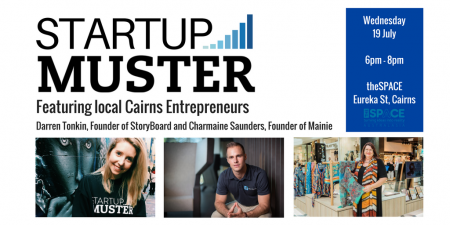 Wed, July 19th, 2017 - 18:00pm
Hear from local founders Darren Tonkin Founder of StoryBoard and Charmaine Saunders Founder of Mainie as they talk with Monica Wulff from Startup Muster about their experiences taking their ideas to reality.
Details