Cairns leading the way in Regional Startup & Innovation Ecosystem Development
Cairns is leading the way in Regional Startup & Innovation Ecosystem development, with thSPACE featuring in a recent edition of Technology Innovation Management Review (TIM Review).
TIM Review is an international publication which provides insights about the issues and emerging trends relevant to launching and growing technology businesses. The TIM Review focuses on the theories, strategies, and tools that help small and large technology companies succeed.
This month's editorial theme is Innovation and Entrepreneurship in Australia. The inspiration for this special issue arose during the ISPIM Innovation Summit (summit.ispim.org/brisbane2015/), which was hosted by QUT in Brisbane from December 6–9, 2015 under the overarching theme of "Changing the Innovation Landscape".
ISPIM (International Society for Professional Innovation Management) host international conferences where they invite researchers, industrialists, consultants, and public bodies who share an interest in innovation management. As it happened the event coincided with the launch of the Australian Government's (2015) National Innovation and Science Agenda on December 7th.
Editor Chris McPhee consulted with national leaders in the Australian innovation (theSPACE among them) to contribute to the special June issue of TIM Review – Innovation & Entrepreneurship in Australia. Down your copy here - TIMReview_June2016 and check out pg 24.




Connecting the dot connectors!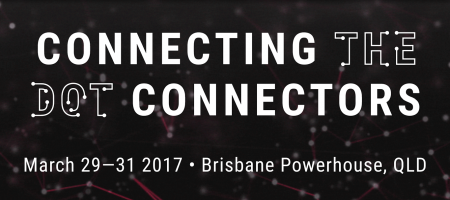 Wed, March 29th, 2017 - 00:00am
~
Wed, March 29th, 2017 - 11:59am
Myriad 2017 marks a powerful step towards building a collaborative global community for startups and professionals across Regional Queensland
Details
Connect Expo 2017

Wed, March 29th, 2017 - 00:00am
~
Thu, March 30th, 2017 - 00:00am
Australias fastest growing business technology event. Commited to showcasing your products, solutions and innovations and ensuring they are promoted to the right customers in the most powerful way.
Details
International Trade Workshop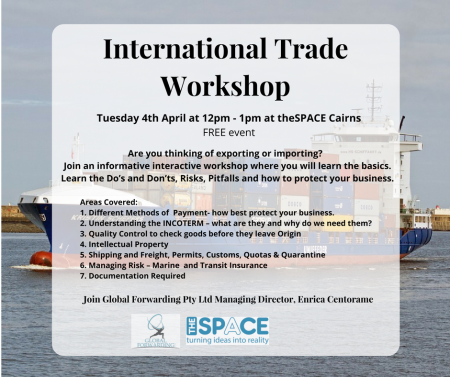 Tue, April 4th, 2017 - 12:00pm
~
Tue, April 4th, 2017 - 13:00pm
Details