Innovation Weekend Update
Just a quick note to update you on the progress of Innovation Weekend...
We are opening up a showcase on the opening night - Friday 21st October. The showcase will include:
Virtual Reality (VR)
Demonstrations Internet of Things (IoT)
Demonstrations (if you are thinking, "what they hell does that even mean?", you'll find out Friday)
Drone demonstrations
3D printing demonstrations
And more
It's not too late to get involved...
Your weekend will include:
Pre-event briefing to ensure that businesses have their idea/ problem clearly defined (business owners only) Pitch night Friday night. Key challenges / ideas proposed by the business owners will be anonymously pitched to recruit participants (programmers, designers, etc) to be part of their innovation team to develop that idea over the weekend
Short, entertaining, educational sessions on launching ideas, innovation, the Internet of Things, Law/IP protection, accounting and more, will be provided Mentors will be available throughout the weekend to support teams
All meals, tea & coffee Drinks Friday and Sunday evening
A whole weekend of intense innovation for business growth and team development
Round up of ideas and progress at the end of the weekend with guidance for businesses on next steps
Investment ie: How much $? Business Owner ..................$99 (Invitation only - to nominate to be a business please email info@thespacecairns.com) Participant .................................$79 Student Price ..........................$49
For more information please visit our website - http://innovationweekend.com.au/ or register here - https://www.eventbrite.com/e/innovation-weekend-tickets-27589651390
Any questions please ask via return email or call (07) 4015 2517
Hope to see you there!
The Team @ theSPACE

Power Hour: Wellness for you and your business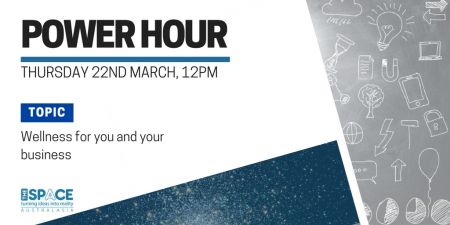 Thu, March 22nd, 2018 - 12:00pm
~
Thu, March 22nd, 2018 - 13:00pm
JOIN OUR NEW MONTHLY POWER HOUR, WHERE WE GET LOCAL MEMBERS TO PRESENT ON A RELEVANT TOPIC.
Details
Power Hour: Marketing
Wed, April 18th, 2018 - 12:00pm
~
Wed, April 18th, 2018 - 13:00pm
Details
Myriad 2018 (Brisbane)

Wed, May 16th, 2018 - 08:00am
~
Fri, May 18th, 2018 - 18:00pm
Featuring founders, investors, thought leaders and senior executives from some of the most influential brands on the planet, Myriad 2018 is where Australia meets the future.
Details