Full Stack JavaScript Developer wanted!
theSPACE Australasia, a startup & innovation hub based in Cairns, Queensland is seeking to employ a Full Stack JavaScript Developer to join our growing team (a virtual position will be considered for the right applicant, but in house is preferred). This is an opportunity for a highly-skilled, Full Stack JavaScript Developer who is passionate about UX, Agile, Cloud Computing, Open Source, Serverless computing - employing software best practices and standards-compliant techniques.
You will be responsible for full stack development and support of customized cutting edge software solutions for a range of internal projects. The culture within the team recognises and supports individuality yet encourages collaboration.
Required Skills & Experience:
Full stack Java Script developer

Node
Express
Meteor
Preferred frontend framework ie: React and/or Angular

Database experience MongoDB and ideally relational databases
Bootstrap
Google Docs / collaborative software
Experience with CRM's
Basic networking / PC skills / Wireless Hotspots
Software security
Experience
Minimum 3 years experience in working within a team. This is a position in which you will be encouraged and expected to learn new technologies as required.
If you have these skills and attitude, send your CV through to explore@thespacecairns.com
Looking for a seachange Tropical North Queensland
Tropical North Queensland fits in more untouched beauty, ancient culture and adventure within its borders than some entire countries manage to do, with the World Heritage-listed double-act of the Great Barrier Reef and Wet Tropics Rainforest its most prized assets.
About theSPACE - http://www.hotdesq.com.au/hosts/the-space
Power Hour: Wellness for you and your business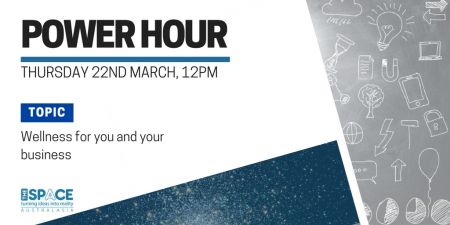 Thu, March 22nd, 2018 - 12:00pm
~
Thu, March 22nd, 2018 - 13:00pm
JOIN OUR NEW MONTHLY POWER HOUR, WHERE WE GET LOCAL MEMBERS TO PRESENT ON A RELEVANT TOPIC.
Details
Power Hour: Marketing
Wed, April 18th, 2018 - 12:00pm
~
Wed, April 18th, 2018 - 13:00pm
Details
Myriad 2018 (Brisbane)

Wed, May 16th, 2018 - 08:00am
~
Fri, May 18th, 2018 - 18:00pm
Featuring founders, investors, thought leaders and senior executives from some of the most influential brands on the planet, Myriad 2018 is where Australia meets the future.
Details