Big Fish Competition - Pitching Finals
Mon, May 28th, 2018 - 13:00 - Mon, May 28th, 2018 - 15:00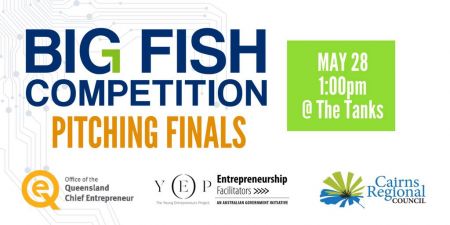 The Big Fish Competition is in full swing and we can't wait to hear all the amazing ideas you have! Visit www.bigfish.yepcairns.com to enter!

The Pitching Finals will be held at the Tanks Art Centre and will involve the finalists for the Big Fish Comp to pitch in front of our inspiring panel of judges. Entrants will have the chance to deliver their pitch and win prizes for their idea, and the ability to connect with other local innovative leaders.

Want to be a finalist? There's 3 easy steps...
1) Create a 3-5 minute video of you pitching your bright idea, and create a powerpoint presentation for your pitch.
2) Fill out the online entry form, and upload the pitch video and powerpoint presentation.
3) Go in the running to be a finalist!

It's really that simple to enter. Visit www.bigfish.yepcairns.com to fill out the entry form and upload your video and presentation.