Digital Skills for all Queenslanders
Wed, May 31st, 2017 - 08:00 - Wed, May 31st, 2017 - 18:00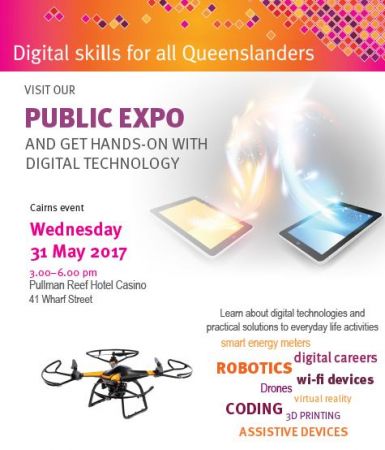 Digital skills for all Queenslanders - 31 May 2017 Cairns
Presented by the Digital Economy & Productivity team within the Department of Science, Information Technology & Innovation
Students, Teachers and Librarians are invited to get hands-on with digital technology through workshops delivered by experts and real-life practitioners.
See technology in action and hear about the presenters' own digital journeys, the impact that technology might have on future employment and the opportunities that digital technologies can provide.
A full program detailing the workshops available, plus the School Consent Form can be downloaded from our website.
Workshop places are strictly limited so get in quick and register now.
Please feel free to contact the team at godigitalqld@dsiti.qld.gov.au should you have any queries.