FNQ Business Conference with Andrew Griffiths (Atherton)
Fri, June 1st, 2018 - 08:30 - Fri, June 1st, 2018 - 17:00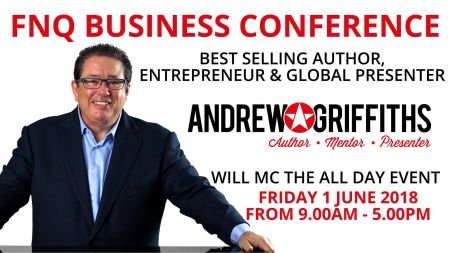 Coinciding with Queensland Small Business Week (28 May – 1 June 2018) the Far North Queensland Business Conference will bring together all types of business operators, economic development practitioners, agencies and specialists to hear from an array of guest speakers on topics relevant to new enterprises and diversification, business growth and high performing workforces.

Bestselling author, entrepreneur and global presenter, Andrew Griffiths will MC the all-day event on Friday 1 June 2018 from 9.00am until 5.00pm.

Andrew Griffiths is Australia's #1 Small Business author with 13 books sold in over 65 countries. He is an acclaimed international speaker having spoken about better ways to do business in over 20 countries, with one of his latest speaking engagements being in Iran at a conference for 700 entrepreneurs. Andrew is known around the world for his innovative way of thinking, down to earth common sense, sense of humour and his ability to take complex ideas and make them simple. Having been a business owner himself for 35 years, he talks the talk and walks the walk and it's easy to see why his expertise is sought by so many.
Tickets must be purchased online: https://www.registernow.com.au/secure/Register.aspx?E=29791