How to Write Govt Grants
Tue, May 30th, 2017 - 17:00 - Tue, May 30th, 2017 - 19:30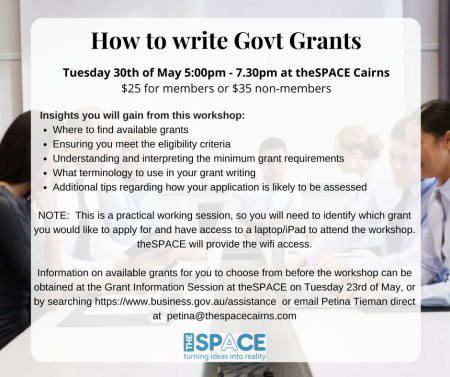 The tips on how to write Government Grants and Tenders
Have you ever spent numerous hours, maybe even weeks, writing a Government Grant or Tender, only to be notified you were unsuccessful with little or no explanation as to why? Many business owners then become disheartened because there is no 'return on investment' for all the hours you put into it, or the work they have turned away to prioritise the grant submission.
At this workshop, you will not only learn some of the main tips of Government Grant writing, but you will be required to bring to the workshop your own laptop/iPad to actually go through the process whilst you have access to asking questions of the facilitator.
Your facilitator, Petina Tieman, in the past 12 months alone, has written 35 funding applications, grants and tenders for SME's totalling over $1.3mil and boasts a 100% success rate to date. Petina has had the advantage of having worked very closely with Government stakeholders for many years to learn the various tips and tricks Government require, which many business owners overlook or are not aware of.
Insights you will gain from this workshop:
Where to find available grants
Ensuring you meet the eligibility criteria
Understanding and interpreting the minimum grant requirements
What terminology to use in your grant writing
Additional tips regarding how your application is likely to be assessed
NOTE: This is a practical working session, so you will need to identify which grant you would like to apply for and have access to a laptop/iPad to attend the workshop. theSPACE will provide the wifi access.
Information on available grants for you to choose from before the workshop can be obtained at the Grant Information Session at theSPACE on Tuesday 23rd of May, or by searching https://www.business.gov.au/assistance or email Petina Tieman direct at petina@thespacecairns.com