The new hybrid – The "Uberisation" of work
Wed, November 15th, 2017 - 17:30 - Wed, November 15th, 2017 - 19:00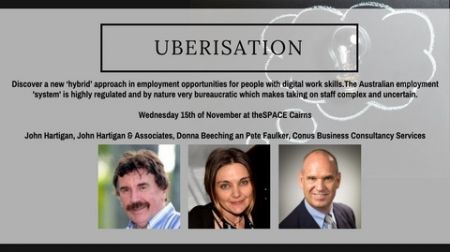 Join theSPACE in discovering a new 'hybrid' approach in employment opportunities for people with digital work skills.The Australian employment 'system' is highly regulated and by nature very bureaucratic which makes taking on staff complex and uncertain.

The 'Uberisation' of work workshop will provide an approach to a 'Hybrid' model of employment catering for professional project management specialists to act as contractors or consultants.

theSPACE Cairns | Wednesday, November 15th
5:30pm - 7pm
Members of theSPACE $10 | Non - Members $25
Speakers:
John Hartigan, John Hartigan & Associates
John has over 29 years practical experience in Management, Human Resources, Industrial Relations and Business Coaching. He has additional qualifications in Workplace Mediation, Executive Coaching and the application of Behavioural Profiling. His experience in large Corporate roles has been supplemented by consulting roles with over 60 organisations in the SME space over the last 17 years in North Queensland, Sydney and PNG.
Donna Beeching
Specialising in both strategic and operational activity, she has held staff and departmental management roles with extensive experience in developing strategies to build capacity within organisations, managing the professional development of staff, managing projects and change, and implementing efficient workflow processes."
Pete Faulker, Conus Business Consultancy Services
Pete is recognised as an expert in both the field of regional economic data analysis as well as strategic planning, business modelling and organisation leadership. Pete will talk on the way "employment" is currently measured, how the shifts in employment trends is changing that and the challenges (from the economics and social perspective) that the shifting paradigm create.
Agenda:
5:30pm networking
5:45pm workshop
6:30pm Q&A / Networking
7:00pm Finish
RSVP Essential. Light nibbles will be provided.