iLab Germinate 3 Month Accelerator Program
theSPACE Cairns inc Travel Expenses, Mentoring + a $20k Grant
Huge congratulations to the 2 teams from theSPACE who have made it to the Bootcamp stage of the Autumn intake
On very short notice 2 teams from theSPACE have both received paid trips (travel & accommodation) to iLab's 3 day bootcamp 2nd - 5th May in Brisbane. The bootcamp is a prelude to the 3 month accelerator program commencing later in May. Whilst at the bootcamp, both teams will pitch for their chance to participate remotely in a 3 month accelerator program (which is a new initiative from iLab) The teams are:
Do you have a great tech idea that you need help getting off the ground?
theSPACE are seeking an expression of interest for digital-based startups interested in participating in the ilab Germinate program. The program offers successful teams the opportunity to participate in an initial 3 day bootcamp and 12 week intense startup accelerator program where they receive regular mentoring and workshops, progress with other passionate teams in the program and receive up to $20k in funding for development, legals/accounting and marketing, to assist in taking their idea to a validated business model with early product.  Note that ilab receives 10% equity as part of this support. Successful teams are invited to attend ilab's bootcamp weekend in Brisbane where there will be a range of workshops, and teams will rebuild their business idea for final judge pitching. Travel and accommodation are subsidised for regional participants. From the bootcamp, a final selection of teams is invited to participate in the 3 month Germinate program.  While the majority of teams will be expected to participate from ilab's Brisbane facility, iLab are working on a structure for successful regional participants that will mix in Brisbane, home based activity and video-linked based participation.  Again travel subsidies are anticipated. (Details of this are not yet finalised) Applications for the May program have closed, however the Germinate program will run again in 6 months time. To submit an expression of interest or to discuss an idea that you have please
contact us
, by completing the form below.


Power Hour: Wellness for you and your business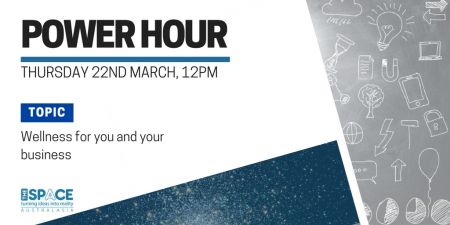 Thu, March 22nd, 2018 - 12:00pm
~
Thu, March 22nd, 2018 - 13:00pm
JOIN OUR NEW MONTHLY POWER HOUR, WHERE WE GET LOCAL MEMBERS TO PRESENT ON A RELEVANT TOPIC.
Details
Power Hour: Marketing
Wed, April 18th, 2018 - 12:00pm
~
Wed, April 18th, 2018 - 13:00pm
Details
Myriad 2018 (Brisbane)

Wed, May 16th, 2018 - 08:00am
~
Fri, May 18th, 2018 - 18:00pm
Featuring founders, investors, thought leaders and senior executives from some of the most influential brands on the planet, Myriad 2018 is where Australia meets the future.
Details