CRC & iLab Pitch Night - Thursday 19th Nov.
CRC & iLab Pitch Night
To celebrate Global Entrepreneurship Week, theSPACE in conjunction with the State Government, Cairns Regional Council & iLab and pleased to invite you to the CRC & iLab Pitch Night. The event is being in held at the Amphitheatre – Cairns Botanic Gardens Visitor Centre and will offer 3 really cool things (well more than 3 but, here are 3 good ones).
A kick butt presentation + Q & A from world class entrepreneur Danny Maher (see bio below)
Wicked pitches (prizes for the best pitches)
A chance to connect with other awesome peeps from the startup & innovation community
Tickets at https://www.eventbrite.com/e/crc-ilab-pitch-night-tickets-19417099066
Agenda:
4pm – 5pm – Danny to spend an hour in one on ones with 4-5 startups from the region
5:15pm – Attendees arrive to pitch event – Networking
5:45 – 6:45pm – Danny Maher presentation + Q & A
6:45pm – 7pm Break
7pm – 8:30pm – Pitches
8:30pm – Networking
Visiting Entrepreneur
Danny is CEO of Opmantek, a successful open source software company, producing a network management information system (NIMS), based on the Gold Coast. Mr Maher was awarded the Gold Stevie for executive of the year with the Silver Stevie going to Alan Joyce (CEO of Qantas) and the Bronze to David Thodey (CEO of Telstra). Danny has been a key figure in the Australian IT landscape, a serial entrepreneur and commercialiser of innovation and passionate promoter of the Australian IT industry. Under Danny's management, Opmantek has deployed a disruptive business model which has seen the Opmantek business grow to support a customer base of over 60,000 organisations in 130 countries globally. Every 6 minutes a new organisation implements an Opmantek product making Opmantek one of the fastest growing business software companies in the world. Opmantek is Australian ICT Exporter of the year and a Queensland iAwards winner. "Awards that follow from achievements are very satisfying. To receive a Gold Stevie award in front of two of Australia's leading executive's is fantastic recognition of the modern, innovative high growth business model developed and deployed at Opmantek and one that I hope will benefit many Australian companies." – Danny Maher, CEO Opmantek Danny was also recognised for the generous contributions that he has made to the Gold Coast community, through mentoring, industry presentations, donations and for the foundation of the Griffith University Opmantek Industry Prize as a way to enrich student experiences and strengthen the link between academia and industry through industry based IT projects.
What Online Branding means for your small business

Tue, July 24th, 2018 - 18:00pm
~
Tue, July 24th, 2018 - 20:00pm
Personal Branding is crucial for success because it lays the foundation of everything you do especially online, learn the strategies to take with your personal branding and online business branding that ultimately is the most important part of the brandin
Details
Startup Hackathon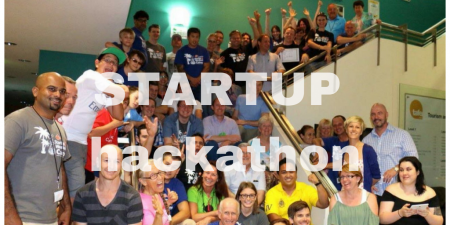 Fri, July 27th, 2018 - 08:00am
~
Fri, July 27th, 2018 - 18:00pm
Startup Hackathon, is a one day event focusing on entrepreneurial skills development
Details
Canva for Business 101

Tue, August 14th, 2018 - 18:00pm
~
Tue, August 14th, 2018 - 20:00pm
This workshop is designed for those needing and answer for their content creation and need a basic platform as a design template tool.
Details