Entrepreneurial spirit to soar in Cairns
Six of Queensland's most successful entrepreneurs and business people will visit Cairns on Thursday 9 March and Friday 10 March as part of a four-day, ten-stop tour through regional Queensland to encourage others to take the leap, change their lives and become entrepreneurs.
Organised by the Office of the Queensland Chief Entrepreneur, the tour is designed to inspire current and future trailblazers and help cement Queensland's reputation as the #startupstate. The group will also spend time in Goondiwindi, Emerald, Yeppoon, Rockhampton, Charters Towers, Longreach, Mount Isa, Lockhart River and Mackay.
Led by Mark Sowerby, Queensland's first Chief Entrepreneur and founder of Blue Sky Alternative Investments, the group also includes:
Steve Baxter, entrepreneur, investor, 'shark' on Network Ten's Shark Tank, and founder of River City Labs, Startup Catalyst and RiverPitch;
Patrice Brown, 2016 Telstra Business Women's Queensland Entrepreneur and founder of CQG Consulting and two startups;
Lucas Patchett, co-founder of social enterprise Orange Sky Laundry and Young Australian of the Year in 2016;
Stephen Phillips, co-founder of We Are Hunted, which was acquired by Twitter in 2012 and CEO of Mawson Ventures, an Australian ventures firm investing in AI, robotics, materials and renewables;
Chris Titley, Morgans stockbroker and host of the Morgans Startup, Executive and 40 Under 40 podcast series.
They will share life-changing stories through a series of workshops, events and Q&A sessions that will involve the entire community, from schoolchildren and budding 'kidpreneurs' to local business, industry leaders and angel investors.
The tour will also be a chance for the chief entrepreneur to meet with communities throughout the state, to hear their stories and gain insight into the challenges and opportunities entrepreneurs face in Cairns.
On Thursday 9 March, TheSPACE Cairns is hosting a free event from 6:30pm–9pm, which will be a chance for Mark Sowerby and the panel of entrepreneurs to share their inspirational stories.
On Friday 10 March, the group will meet potential local investors over breakfast from 7:30am–8:30am to discuss how they can help kickstart the startup community and back local ideas.
Later on Friday morning at 9am, Mark Sowerby, Steve Baxter and Lucas Pratchett will meet with high school students studying business at Rydges Esplanade Resort to discuss what it means to be an entrepreneur, while Patrice Brown, Stephen Phillips and Chris Titley will meet with students involved in the Club Kidpreneur at Cairns West Primary School.
Mark Sowerby said entrepreneurs living in regional Queensland had a distinctive edge.
"The drive and tenacity needed to succeed from rural and remote areas creates unparalleled resilience, problem solving skills and persistence – key ingredients for successful entrepreneurs. It means those who overcome these barriers to entry early on already have an edge on the competition and are set up for success," Mr Sowerby said.
"We want to meet these people and find out how we can support them to take the next step in their entrepreneurial journey. We hope to empower regional Queenslanders to take the plunge, back themselves and each other, and to change their lives by becoming entrepreneurs."
Born in Cloncurry and raised in Emerald, entrepreneur Steve Baxter said he was proud to be accompanying the chief entrepreneur on this trip.
"Queensland is not only the best state but is also a lot more than Brisbane. Having been born and raised in north west and central Queensland I know all too well the opportunity for entrepreneurship to thrive in these areas," Mr Baxter said.
For more information about the evening event, please see Eventbrite.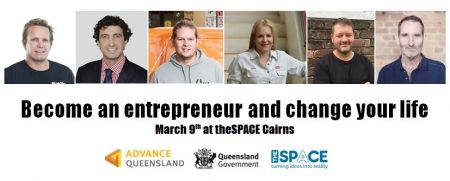 Pitch Night @ theSPACE Cairns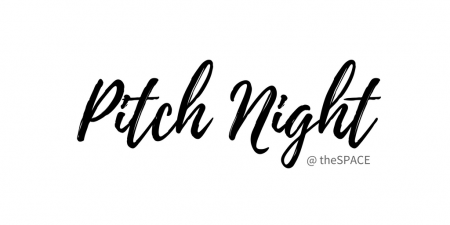 Fri, July 7th, 2017 - 17:00pm
~
Fri, July 7th, 2017 - 19:30pm
Don't go it alone. Bring your ideas to life in this interactive business building session.
Details
Money Matters HACK-A-DAY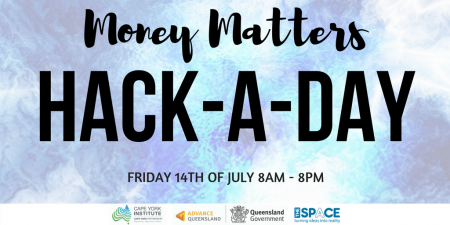 Fri, July 14th, 2017 - 08:00am
~
Fri, July 14th, 2017 - 20:00pm
Join us for one whole day where we merge two worlds – poverty and finance. This is your chance to work with others, share your wealth of experience and build a prototype product/service that will change people's lives. Be a part of the first ever "Money M
Details
Startup Muster Roadshow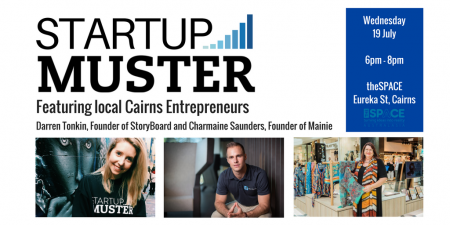 Wed, July 19th, 2017 - 18:00pm
Hear from local founders Darren Tonkin Founder of StoryBoard and Charmaine Saunders Founder of Mainie as they talk with Monica Wulff from Startup Muster about their experiences taking their ideas to reality.
Details