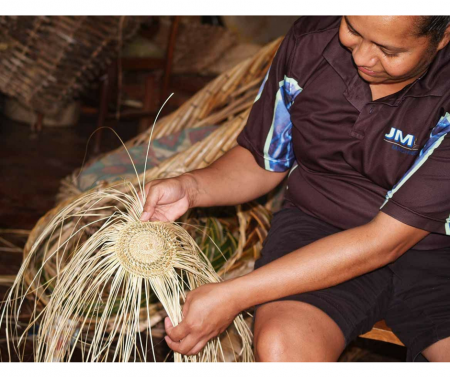 Brief Business Description:
Indigenous Tour Agency (ITA) promotes tourism of
Traditional Australia to all corners of the world.An online booking platform for Indigenous Tours, Attractions and Activities.
Team Members:
Samone Wear. ITA, Director and Co-founder located in Adelaide SA
Brief personal bio:
Director and Co-founder of Indigenous Tour Agency in August 2016. I am a Professional Weaver, Mum of 7, Nana to 7 grannies. My people are the Gooreng Gooreng (Fathers people of SE Qld) and Wadjanbarra Tableland Yidinji (Mothers people of Atherton Tablelands). I am enjoying my entrepreneurial journey and creating positivity and improved outcomes for my people and building new networks and lasting friendships along the way.
What are you hoping to gain from co-working at theSPACE: I will be creating new and exciting networks and hoping to give support to others at theSpace.
How can you help your fellow co-workers at theSPACE:
I am open to having a conversation with anyone and to see if we maybe able to support each other professionally or personally.
What are some of your hobbies/interests: watching footy, weaving, baking, spending time with my family and procrastinating [something else I hope to get help with! ;)]
If you could be any superhero, who would you be and why:
I don't think I am up to being a superhero as I would not be comfortable in the limelight!! I would prefer hero support (side kick!!) Helping to get all the little things done so the real heroes can get the job done.