Do you have an idea?
Calling all inventors, innovators and entrepreneurs
With only 3 days left to register,, we're super excited by the calibre of 20+ entrepreneurs which are coming together to kick off Startup Base Camp this coming Saturday.
If you have an idea, that you would like to see if it has legs? Or if you know someone with a great idea for a business? Or maybe someone has an invention they have been tinkering with, then this is the program for them. theSPACE Cairns in conjunction with iLab are running a dynamic 4-week program that has NEVER been produced in Cairns before. It is specially designed to help you get your idea to market as effectively as possible. More information can be found here - http://thespacecairns.com/startup-basecamp/ You can download a copy of the flyer here
Or check out the following short video - Startup Basecamp Video
Please contact us NOW, should you wish to register or register via the following eventbrite link - https://www.eventbrite.com/e/startup-base-camp-at-thespace-tickets-15723541536
Any questions, please let us know.
Get in the game The Team @ theSPACE theSPACE - Turning Ideas Into Reality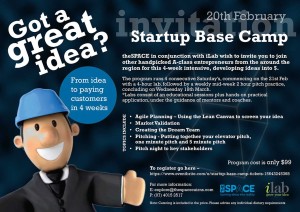 New Events coming soon to this space...