Leveraging Technology for Mental Health
Do you know someone or are you someone who has been touched by mental health challenges. The reality is the world is accelerating out of our control and it's taking a toll on people we care about and it's not going to slow down.
I'm someone who has used a meditation practice to help me navigate my way through the intensity of modern living, and always considered that technology- for all it's benefits, made us largely more unconscious and it was practices like meditation and yoga that connected us back to our essence. It was after reading a book recommended by Rob Gronbeck - Stealing Fire by Steven Kotler and subsequent conversations with some of the people mentioned in the book that I had the awareness that meditation was a 3000+ year old technology and the technology of today should support us in being more conscious, to feel good, to thrive... So.
I've recently started working with Nichol Bradford - founder of Transformative Technology Labs, Transformative Technology Conference and her team to build a global ecosystem to support entrepreneurs and innovators who are leveraging technology for mental health, well being and joy.
Nichol suggests and I agree, "We can create an unprecedented era of human flourishing using technology. TT operates off the premise that we can take the tech that has taxed our thinking and relationships and use it instead to transform our hearts and minds. Use it to have greater clarity, joy and connection and with this, we will have more possibility. And we must have flourishing, because we cannot solve our other problems without having healthy, human minds."
It's about consciously building the future of human possibility. Designing tech to serve us.
As part of this project I'm heading over the San Francisco for a month to work with Nichol and the leaders of the Transformative Technology movement, with the intention that I will be better placed to support the TT entrepreneurs in Australia to build and scale awesome TT products.
Recently a couple of incredible Australian TT Founders (that I met as part of the project) and I were featured in Holistic Bliss (details pg 28-29)
- thanks Vanessa Finnigan Holistic Bliss Magazine for being part of the story.
Shout out to:
Positive Prime - https://www.positiveprime.com/ Kim Serafini
Focusband - https://focusband.com/ Henry Boulton
If you'd like to know more about TT... Check out https://medium.com/transformative-technology and/or register here - https://forms.aweber.com/form/28/1265542228.htm if you'd like be added to our mailing list
T.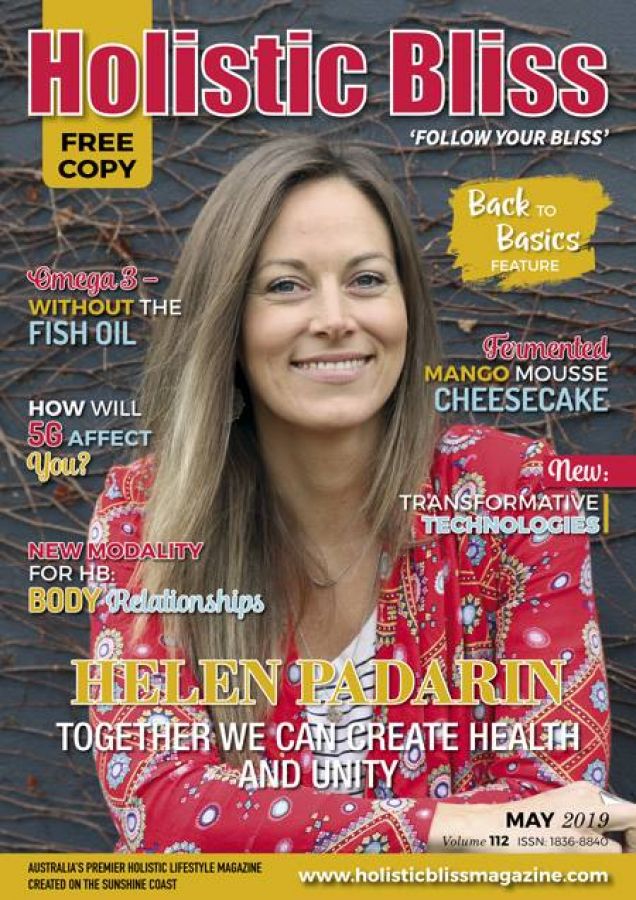 New Events coming soon to this space...