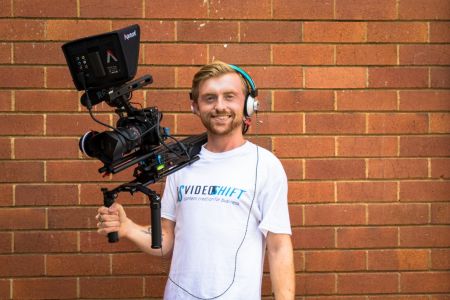 Brief Business Description:
Videoshift Media is a boutique video production
Company supporting the creative potential of local businesses. We produce marketing and training video content across a variety of industries and run local video making workshops for business owners.
Team Members:
Joel Garman – Owner/Founder/Tea Drinker
Harmony Riveros – Social Media Whizz Kid / Genius Writer
Brief personal bio:
I am an experienced Videographer and Editor who has a passion for Storytelling and a talent for new and exciting ways to market content and grow online followings.

I come from a Film & TV background having worked on shows such as MTV's The Shannara Chronicles, Power Rangers: Dino Charger, and various other TVC, Documentary and music video productions over the last few years.

I was a finalist in Tropfest NZ (The world's largest short film festival) three years running, for my Directing work on my short films: 'Tunnel', 'Two Guns and A Funeral', and 'Charlie Floyd's Visionarium' the latter film won best VFX.
What are you hoping to gain from co-working at theSPACE:
I joined theSPACE not long after my arrival in Cairns. Already I have learnt a lot from the co workers I have met. I would like to continue to build working relationships with co workers and learn about different start ups and industries.
How can you help your fellow co-workers at theSPACE:
I own a variety of industry standard filming equipment to produce high quality video marketing campaigns. If it's an event you need covered like a conference or wedding, I'm also your guy. I have produced results for clients with them getting viral 500,000+ views on their videos on social platforms. I also offer business headshots and photographic product shots. Come say hi! (I'm the ginger one)
What are some of your hobbies/interests:
My main hobby which takes up a lot of my time is filmmaking and producing creative projects.
Other than this, I love exploring the local area, hiking, photography and the odd gaming session.
If you could be any superhero, who would you be and why:
Batman! He's a rich badass crime fighting… bat… man.